Posted by Missie Carpenter on Sep 20th 2020
A while back showed you my latest fabric line, Barn Dance. It's been so much fun making quilts with this fabric! Very soon, I can show you, but for now, it must remain a secret! Barn Dance is out in stores now so please check your local fabric shop for yardage. The next line to be released in December is Abby's Treasures and I was lucky enough to get some strike offs to create something very special. Before I show this to you up close and personal, I'll tell you a bit about how Abby's Treasures came to be...
I've always been drawn to reproduction fabrics. I love my colors and I'm sticking to them! There have been times I've ventured out of my "Palette" for a special project now and then, but I always come back to the reproduction tones. Rich, deep earthy colors speak to me and bring out the best in my designs. They are always like a gift when I dig in and start choosing fabrics for a new design. My collections with Blank Quilting Corporation are just what I need when I start creating...a full range of lovely color and texture! This collection is available in fat quarter bundles...what a sweet gift indeed. :-}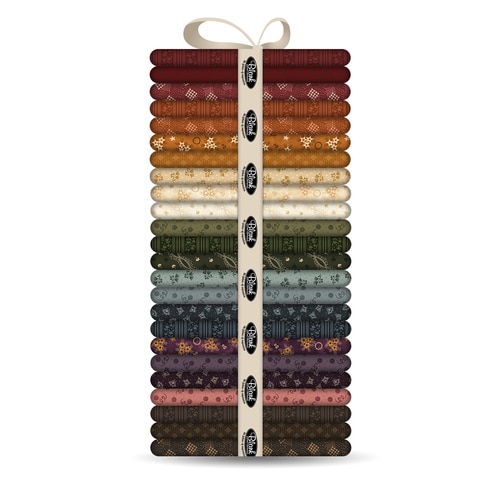 Many times, people will ask what inspires the fabrics I create. Each line has been inspired by different experiences in my life, but Abby's Treasures was inspired by antique quilts. I have a small collection and in recent years, I am really learning to appreciate fabrics from the past. I've always been attracted to fabrics and textiles, but lately I've been very interested in dating fabrics and learning about how they were printed, and about the women who made quilts in the past. I am amazed at how they made quilts without modern tools we have today! We are spoiled! A good thing I must say!
My Dad made me a tall quilt ladder a few years ago and I love it so much. It is always covered with quilts and it's my favorite way to display antiques. Many times I am drawn to that corner and find myself studying fabrics. Such beauty in the simple, and sometimes very complex shapes.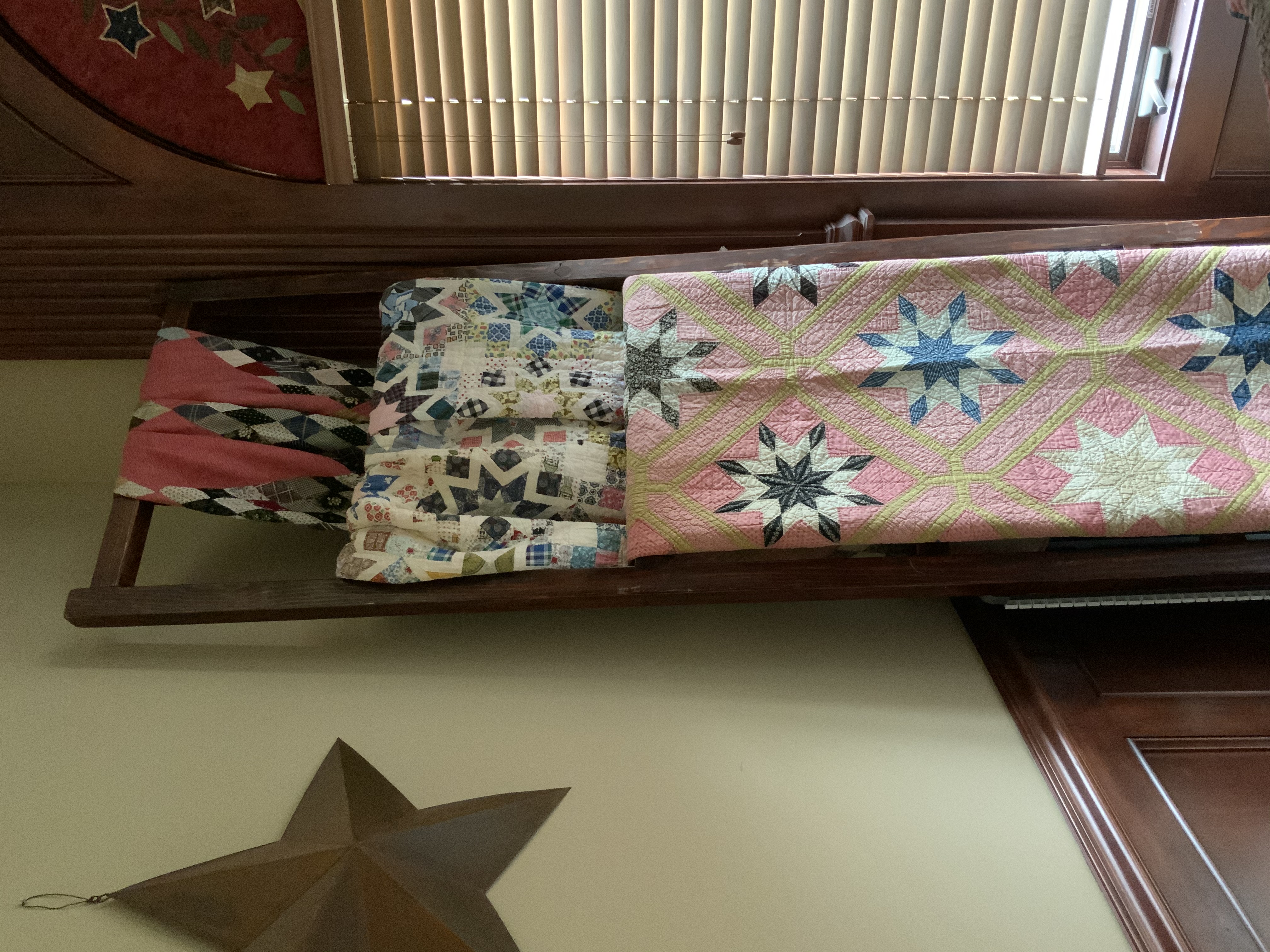 As I study the simple antique quilts I own, certain fabrics jump out at me and become favorites. I love quilts from the mid 1800's with their tiny, busy prints...just my style! I am drawn to quilts that have LOTS of different fabrics in them. I started snapping pictures of my favorites and started a picture collection to use for design inspiration for Abby's Treasures. (That middle picture is not from the mid 1800's but has lots of fun prints.)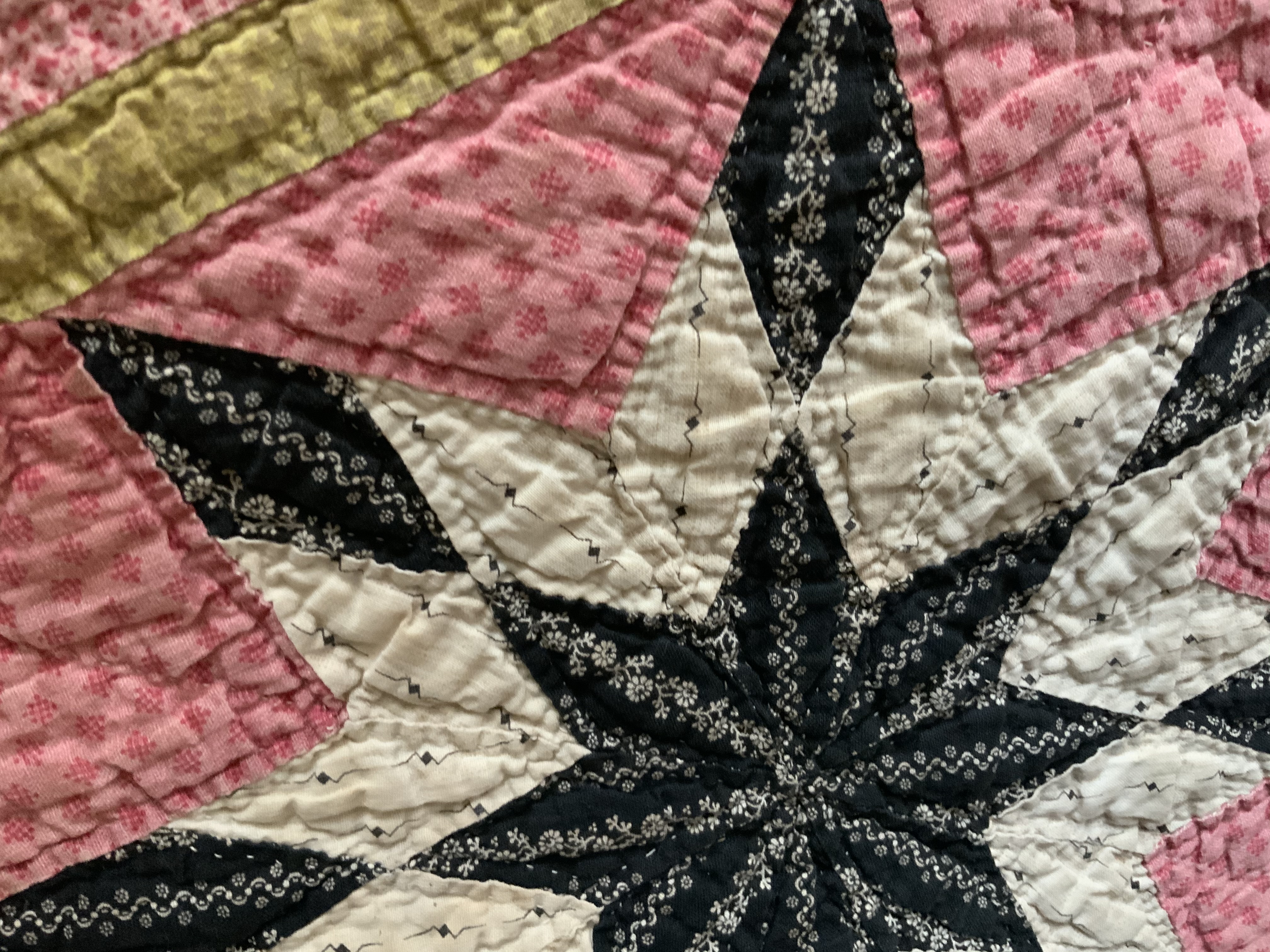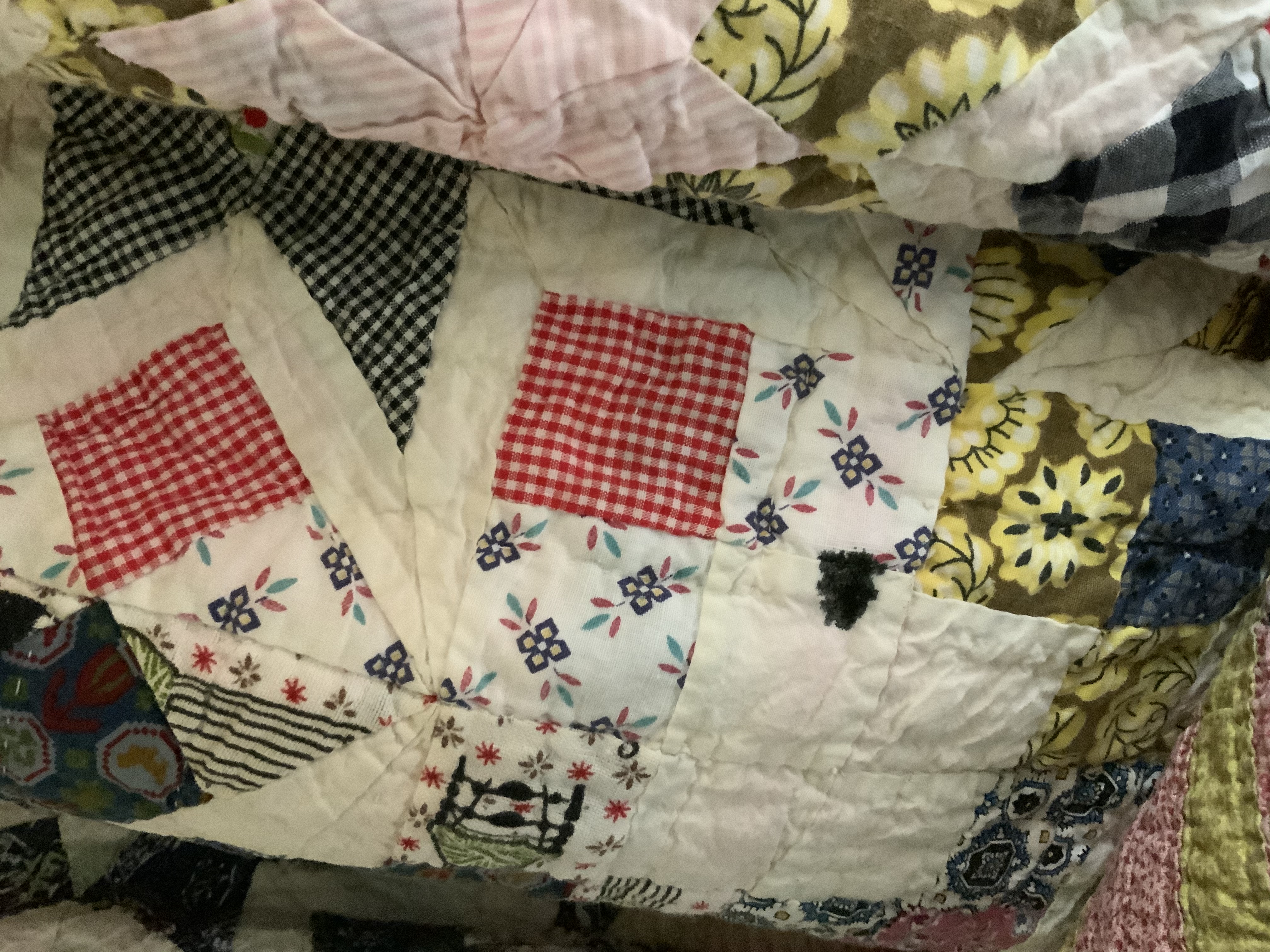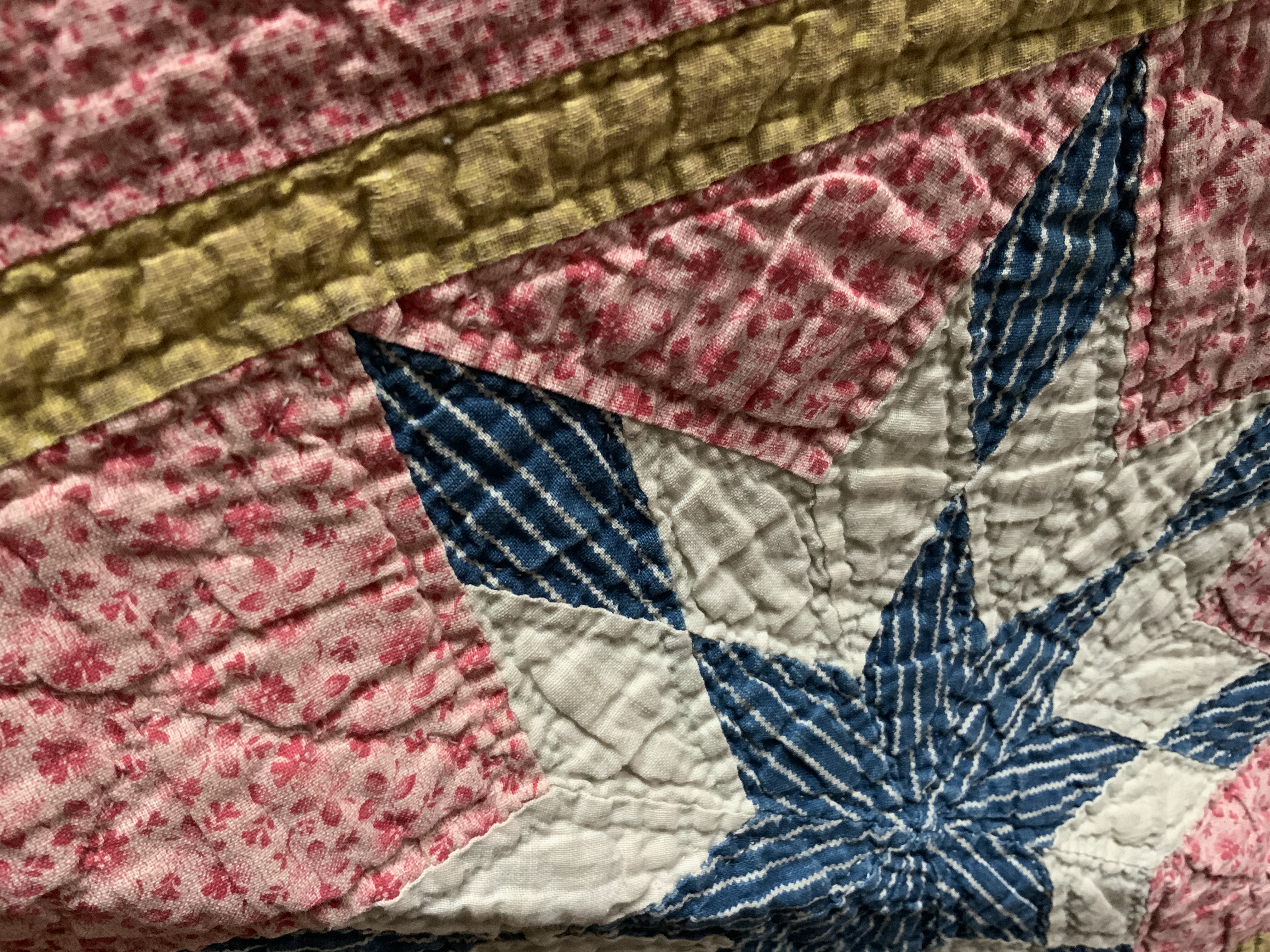 If you have seen my earlier lines, you may have noticed they are full of texture. What is texture on a flat piece of cotton? Printed texture...wools, streaks, rug hooking, old stain blobs, etc. If I were going to use the antique fabrics for a new line, I definitely wanted texture added to the old designs. I'm inspired by texture everywhere and find myself snapping pictures when I come across unique texture. Sometimes from cracks on a floor or wall, architectural sculptures, wood, countertops or clothing textures like sweaters or different weaves. As my collection of fabric and texture pictures grew, they were mixed up and combined, added to with doodles here and there and voila! Abby's Treasures came to be! I am very grateful for the team I work with at Blank Quilting Corporation who hear my wishes and see my vision when I send in an idea and bring it to life! Each print is a special little treasure... I couldn't do it without them!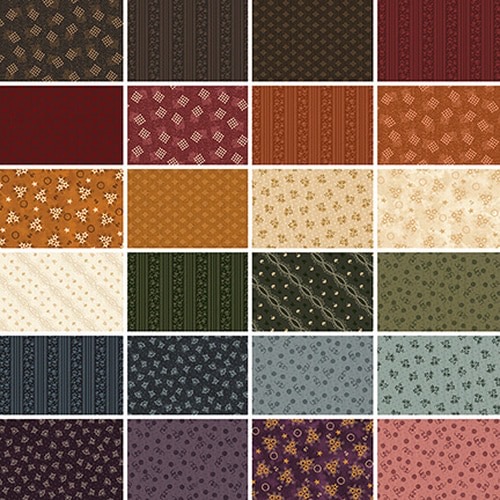 When you take a look, you see what looks like reproduction fabrics with added touches of texture with rich tones of earthy colors for any season. I loved working with these prints on a new quilt called Nana's Garden Club, available next spring after a special teaching event. Watch for updates and the finish of this beauty.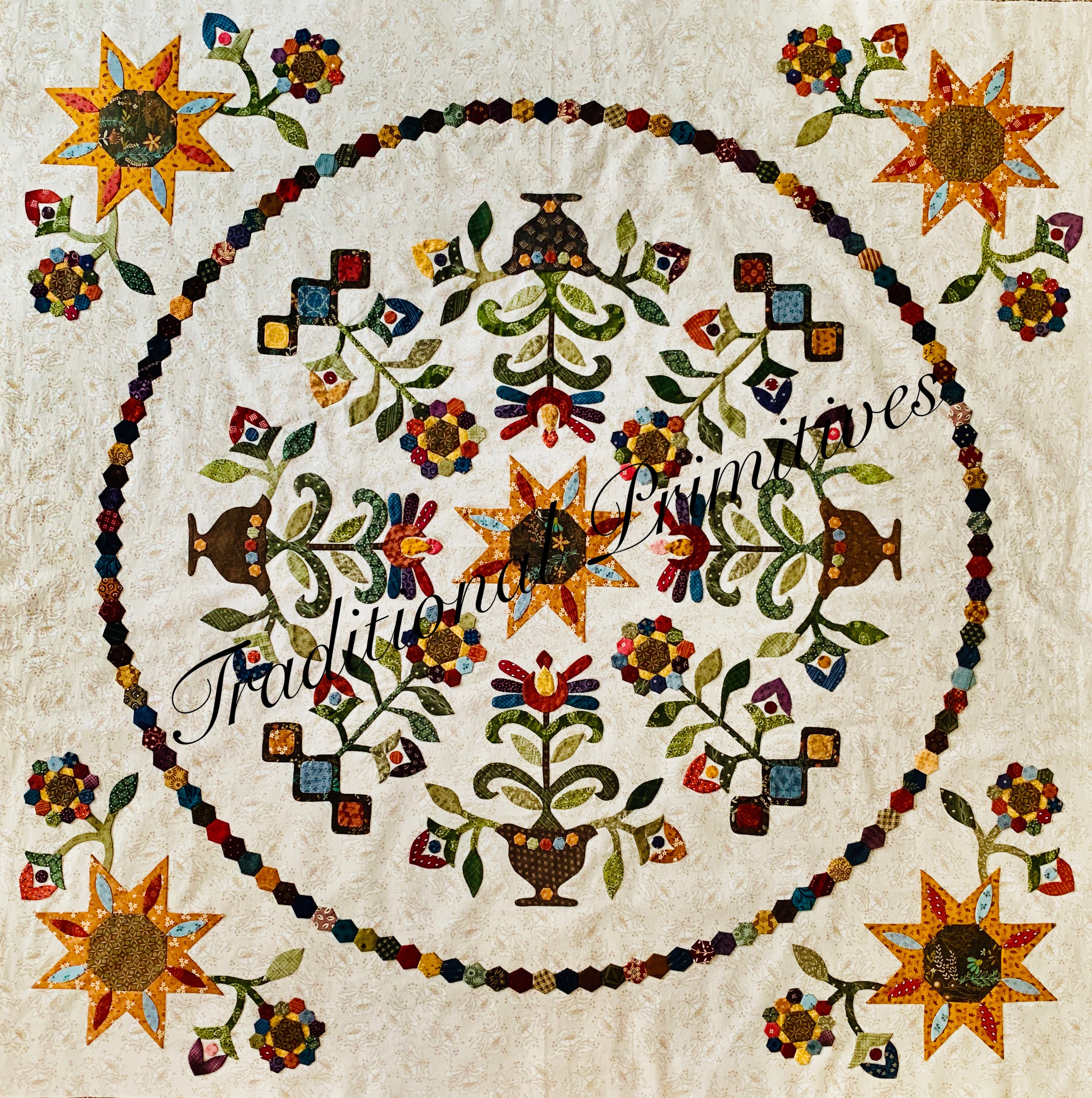 I've added a few fabrics from my other lines and a few of other fabrics I have on hand that fit the style. And I am brought back to what inspires me when I design fabrics...beautiful quilts. This one isn't an antique, but it will be some day. It inspires me to get the next collection finalized- I can't wait to show you what's coming next!
Abby's Treasures will be in your local quilt shops in December. If you like what you see, please let your local shop know to get this collection ordered before it is sold out! Details can be found by clicking HERE to be taken to Blank Quilting Corporation's website. You'll also see a free quilt pattern using Abby's Treasures in the link above. Each block a treasure of its own.
As always, thanks for taking time to stop by today and read about what inspires me!
Stay well and Take Care,
Missie